PETITION TO CO-NAME MONROE STREET JOHN LEWIS STEPTOE PLACE
John Lewis Steptoe, creator of award-winning children's books, was born in Brooklyn, New York on September 14, 1950. He was raised right here on Monroe Street in the Bedford-Stuyvesant section of Brooklyn. Let's bring his name home to Monroe Street. By signing this petition you approve of the co-naming of Monroe Street as John Lewis Steptoe Place. The Steptoe Family appreciates your support.
SIGN THE PETITION

100 GREAT CHILDREN'S BOOKS/100 YEARS

Mufaro's Beautiful Daughters was one of the books chosen by children's librarians at The New York Public Library. Mufaro's Beautiful Daughters was also chosen as one of the top 10 books to sell as a package collection from the 100 Great Children's Books.
MORE ON THE NYPL WEBSITE.

THE ABC OF IT: WHY CHILDREN'S BOOKS MATTER
A related exhibition featuring the work of John Steptoe is ongoing June 21, 2013 through March 23, 2014. The ABC of It: Why Children's Books Matter is on view at the Stephen A. Schwarzman Building, Gottesman Hall at Fifth Avenue and 42nd Street.


Amazon.com's John Steptoe Page
The John Steptoe New Talent Award from American Library Association recognizes and promotes new talent.
The Brooklyn Eagle covers the performance of Mufaro's Beautiful Daughters in Brooklyn in the summer of 2012 by Dallas Children's Theater.
John Steptoe Papers at The University of Southern Mississippi
Open Library's John Steptoe Author Page
The Wikipedia article on John Steptoe
www.bweelasteptoe.com
John Steptoe's daughter, Bweela Steptoe, is a clothing designer who designs women's deconstructed clothing.
www.javaka.com
John Steptoe's son, Javaka Steptoe, is also an award-winning children's book author and illustrator.
Wendy Watson's Blog: John Steptoe
Links updated December 10, 2014

For all permission requests pertaining to John Steptoe's artwork, writings or the exploitation of any of the following rights, including foreign and domestic publication rights, including UK, translation, magazine, newspaper, book club, audio, paperback reprint, hardcover reprint, large print, television, motion picture (including props and set dressing), radio, dramatic, public readings, electronic reproduction, and other formats or any other rights not stated, please contact:
Bweela Steptoe
PO Box 330-170
Brooklyn, NY 11233-0170
718-753-8544
John Lewis Steptoe, creator of award-winning picture books for children, was born in Brooklyn on September 14, 1950 and was raised in the Bedford-Stuyvesant section of that borough. He began drawing as a young child and received his formal art training at the High School of Art and Design in Manhattan. He was a student in the HARYOU-ACT Art Program and instructed by the highly recognized African American oil painter, Norman Lewis. He continued his studies at the Vermont Academy, where he was instructed by sculptor John Torres, and by William Majors, a painter acclaimed by the Museum of Modem Art for his etchings and printmaking.
His work first came to national attention in 1969 when his first book, STEVIE, appeared in its entirety in Life magazine, hailed as "a new kind of book for black children." Mr. Steptoe, who had begun work on Stevie at the age of 16, was then 18 years old. READ MORE

MUFARO'S BEAUTIFUL DAUGHTERS
The Caldecott Award
An ALA Notable Book
The Coretta Scott King Award for Illustration
Boston Globe/Horn Book Award for Illustration
Reading Rainbow Featured Book
THE STORY OF JUMPING MOUSE
The Caldecott Award
An ALA Notable Book
Horn Book Fanfare Honor List
ALL THE COLORS OF THE RACE by Arnold Adoff
An ALA Notable Book
Reading Rainbow Highlighted Book
THANK YOU, JACKIE ROBINSON by Barbara Cohen
An ALA Notable Book
JEFFREY BEAR CLEANS UP HIS ACT
ALA Notable Booklist Children's Editor's Choice
OUTSIDE INSIDE POEMS by Arnold Adoff
ALA Notable Booklist Children's Editor's Choice
MOTHER CROCODILE by Rosa Guy
The Coretta Scott King Award for Illustration
The 1989 Milner Award
Voted by Atlanta schoolchildren for their favorite author
COMPLETE JOHN STEPTOE BOOK LIST
John Steptoe's daughter and son, designer Bweela Steptoe and writer and illustrator Javaka Steptoe, are available for school visits. They will talk about their father and their childhood experiences growing up with him, posing for his books and learning from his creative outlook. Bweela and Javaka are happy to use their vender's license for visits to New York City schools. Vender number on request. Please email if you are interested in a visit.
To host an art exhibit of the work of John Steptoe at your school, college, gallery or museum, please us.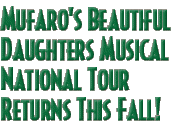 After phenomenally successful tours in the 2008-09 & 2011-12 seasons that visited well over 60 cities, Dallas Children's Theater is bringing back its original musical adaptation of this Caldecott Award winning African folktale.
Dallas Children's Theater is rated by TIME Magazine as one of the top five theaters in the nation performing for youth.

More information about cities and venues in Dallas Children's Theater 2016-2017 National Tour of Mufaro's Beautiful Daughters.
BUY THIS BOOK
BUY THIS BOOK